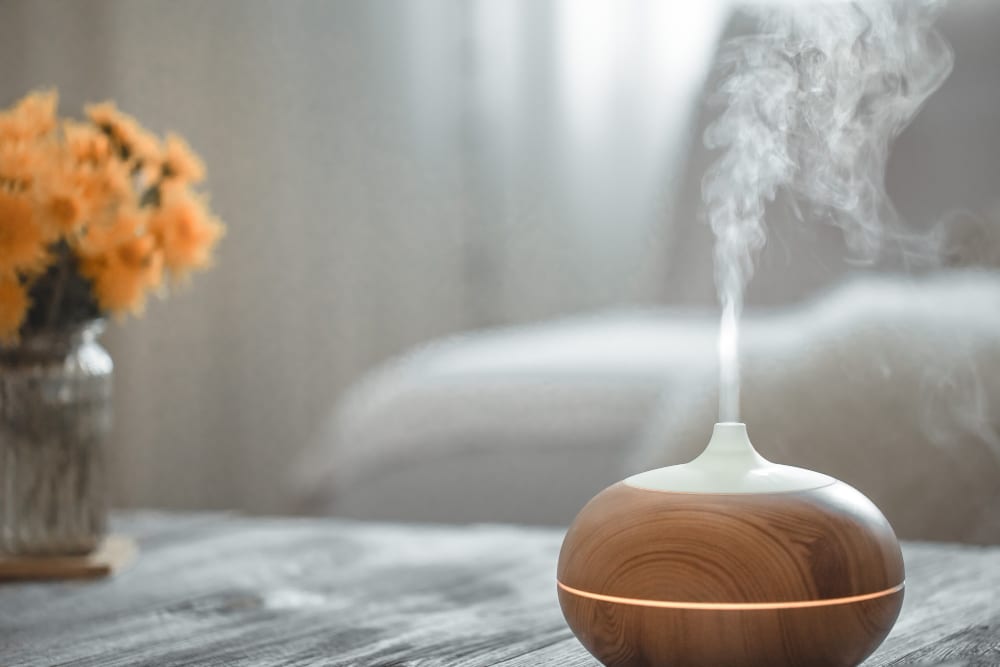 The idea of ​​opening your physiotherapy practice is starting to take up all the space in your mind, and you are. Choosing an essential oil diffuser depends on different criteria. Some people favor therapeutic use of their device, while others simply seek to create a Zen atmosphere in their room… So, how to choose your essential oil diffuser, and which technology to favor ?
---
---
THE DIFFERENT TYPES OF ESSENTIAL OIL DIFFUSER
There are 4 main types of essential oil diffusers on the market:
nebulization diffusers;
mist diffusers;
gentle heat diffusers;
ventilation diffusers.
Nebulizers
The essential oil diffuser by nebulization diffuses the molecules by generating a blast of cold air which will project the droplets of pure essential oils at high speed.
This is the most sophisticated delivery technology, generally used for therapeutic use. The drops sent into the air being small, they stay longer in suspension. This system can be installed in large rooms, up to 100 m². Although this is the loudest system, it can easily be covered by background music or the television.
The misters
Diffusion by mist uses a mixture of water and essential oils. A pellet is placed on the back of the device which will vibrate at high frequency. This vibration will transform the water into a cold mist, which carries with it the molecules of essential oils.
This technique promotes the use of essential oils to create an atmosphere or diffuse a light fragrance. However, the diffusion is less durable because the oils are not used pure.
Gentle heat essential oil diffusers
The principle is simple: the diffuser heats the pure essential oils at low temperature (not more than 40 ° C). This heat will allow a natural diffusion.
Ideal in small rooms (less than 20 m²) such as the bedroom or the bathroom, this device has the advantage of being simple and inexpensive. Always make sure that your diffuser does not heat the oils too much so as not to damage them.
Diffusers by ventilation
This system uses a blotter soaked in essential oils, placed in front of a ventilation system which will "tear" the oil molecules from their support to diffuse them throughout the room.
Robust and rather quiet, this type of device works especially in very small spaces (such as toilets, for example). Its efficiency is quite poor, but its price is very favorable.
WHICH DIFFUSER TO CHOOSE?
Before buying your essential oil diffuser, it is better to define the use you want to make of it.
Are you looking for a diffuser for therapeutic use?
You need a diffusion system that works with pure essential oils, so forget about misters. The non-fogging diffuser is an ideal choice, especially if you want to diffuse in a large room. Be careful, however, this device is rather expensive, and noisy.
If you want to diffuse in a smaller room, and your budget is a little tight, you can also opt for a gentle heat diffuser.
Do you want to cleanse and perfume the atmosphere of a room, or create a relaxing atmosphere?
The mist diffuser fulfills this role perfectly. Less expensive than a nebulizer, it works wonderfully in rooms of less than 50 m²… ie all rooms of the house.
Do you have a small budget and tight spaces?
Soft heat diffusers, provided you choose a reliable appliance, are ideal for small rooms. The simplicity of the system makes it inexpensive.
Finally, the aesthetics of the object can also represent a criterion of importance for you. In this case, be sure to check the performance of the device before cracking on a diffuser with an attractive design, but ineffective!