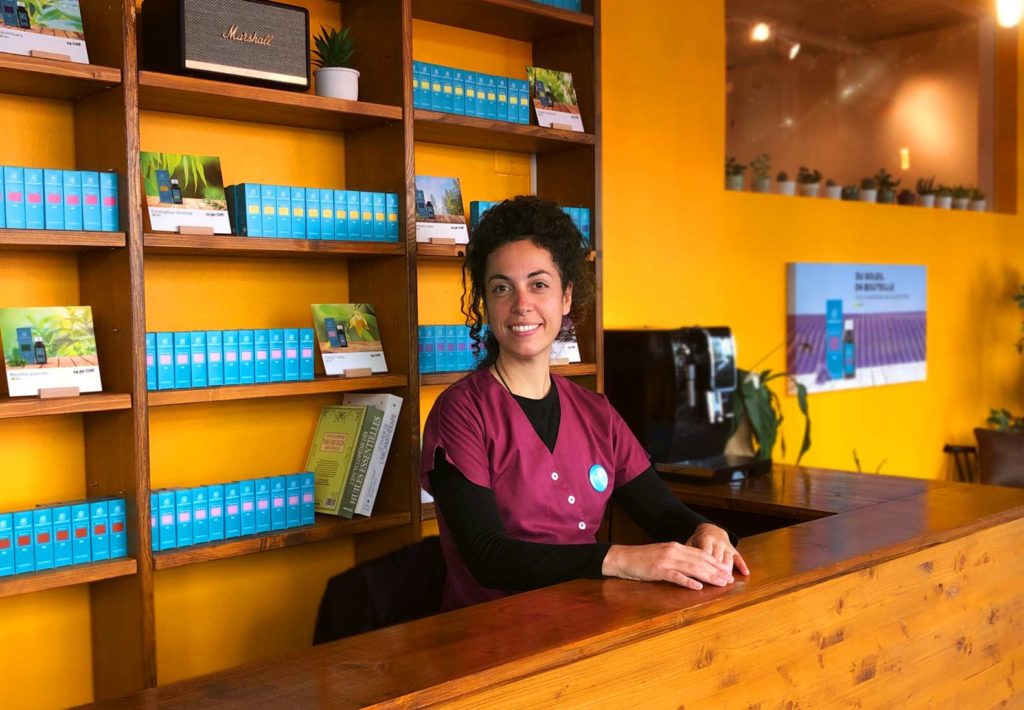 ---
---
Here you find yourself at L'Arbre Blanc, Geneva's first essential oil bar. Behind the counter, you won't find any bottles, glasses or cups of coffee but everything a colorful stall of essential oils.
A WARM ATMOSPHERE
Warm light, woody decoration and leather seats, in a warm atmosphere reminiscent of the antique dealers of yesteryear, you are invited to "& nbsp; taste & nbsp;" your favorite essential oils.
With the help of small strips of paper, you can indeed smell the powerful, fragrant and fragrant scents of the oils. With the help of small spoons, you can even enjoy a few drops of these powerful beverages.
A PLACE OF CROSSING AND SHARING
Trained in aromatherapy, graduated in physiotherapy and reflexology and passionate about natural medicines, Katya Vicente presents the concept of L'Arbre Blanc and its essential oil bar:
"& nbsp; Like a concept store, I wanted to create a place of intersection, mixing and sharing around health and well-being. In fact, you will find here a bar with essential oils , a waiting and relaxation area as well as two treatment rooms. One for physiotherapy and reflexology , the other for osteopathy .
Beyond the therapeutic dimension, I wanted to create a warm, human and friendly place that places well-being at the heart of its project ".
ESSENTIAL OILS UPDATED TASTE OF THE DAY
Used since the dawn of time by civilizations such as the Greeks, Egyptians or Chinese, essential oils are part of ancestral practices. Today, with its essential oil bar, L'Arbre Blanc brings proximity, renewal and a refreshing approach, to present and share essential oils.
---
---